The Riverfront Farmers Market is OPEN this weekend! Saturday 9am
BEER NEWS: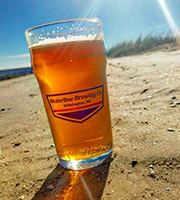 New Beer: Pekko Pale. Our classic Pale Ale got a facelift using two experimental hop varieties! We used whole cone Pekko for a nice, earthy base with floral and citrus aromas, and then we gave it a big dose of HBC 586! What you get is a case of rich fruity flavors and aromas rounded out by a subtle bitterness and style-defining blend of herbal, citrus, and tropical. 5.8% ABV
TAPROOM CALENDAR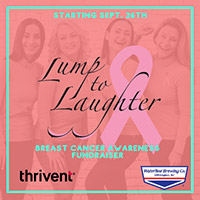 Breast Cancer Awareness Month Fundraiser: Thank you Wilmington and our great Waterline people! This year we've raised just over $1,200 for the breast cancer support charity Lump to Laughter! Although we've kicked the last Rosado keg (so sad) we still have glassware for sale! Only $5 each and all the proceeds will benefit Lump to Laughter...with a boost from our fundraiser sponsor Thrivent Financial matching each sale!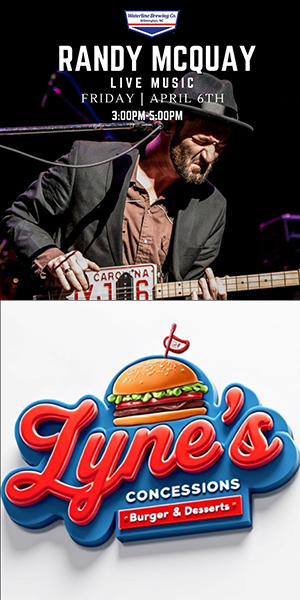 October 23 - Friday
Music: Randy McQuay. Start your weekend with original and classic blues and roots music by 2015 International Blues Challenge winner Randy McQuay; if you haven't had time to catch his performance before, you're in for a treat! (7-9pm)
Food: On Thyme (6-9pm)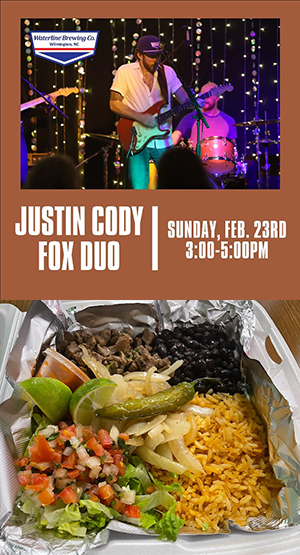 October 24 - Saturday
Music: Justin Cody Fox Band. What a great weekend! Saturday evening live rock and roll with Justin, Dave, Worth, and Fluff. (7-9pm)
Food: Papadom's (6-9pm)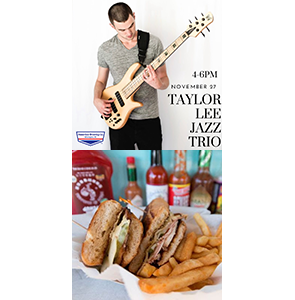 October 25 - Sunday
Music: Taylor Lee Trio. Taylor's bass virtuosity shines through in our outdoor setting...grab a seat, a fresh Waterline beer and some 2Bros food and relax all afternoon with us. (5-7pm)
Food: 2Bros Coastal Cuisine (3-7pm)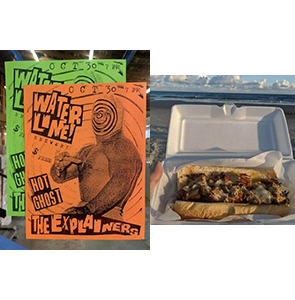 October 30 - Friday
Music: Hot Ghost. Our very own head brewer Dani on bass and assistant brewer Graham on guitar are joined by drummer Brittanie for a debut performance of their punk rock originals and covers! It's a twofer with local punk band The Explainers also on the Waterline stage! PS: if you're not familiar with the genre, it's probably a good night to leave the kids at home! Oi! (7-9pm)
Food: Papadom's (6-9pm)
October 31 - Halloween Saturday
Music: Working it...Phase 3 extended so changing plans and we'll let you know! ugh.
Food: Pepe's Tacos. (6-9pm)
November 01 - Sunday
Music: David Dixon. David's back with his amazing originals and covers! We're also changing the time to 4-6pm for the winter as sunsets come earlier after time change! (4-6pm)
TAPROOM HOURS
Monday: CLOSED
Tuesday - Thursday: 3pm - 9pm
Friday: 3pm - 10pm
Saturday: 11am - 10pm
*Takeaways Saturdays 9am - 11am
Sunday: 12pm - 8pm
TAPROOM RULES IN PHASE 3.0
Masks must be worn when not at table
Please wait to be seated, table service only
First come, first served, no reservations
No bar seating, no bar standing, no floating
Please do not move tables or chairs
Limited group sizes at tables
Please keep children at the table with adults
And as always, doggos are welcome!
MUSIC
We have live local music on our outdoor stage only. It is first come, first seated. Groups of 6-8 will get priority on the picnic tables (but we'll fill in as we go). Weather plan: we watch it closely, we'll even start late if it looks like we can do it so keep an eye on our social media pages or call and we'll update the recording!