NEW BEERS ON TAP
New release: Passion Fruit Gose
We've become big fans of the gose (go-ZUH) style: an old style wheat beer with a touch of coriander and salt...and then brewed with other interesting ingredients! Our latest edition is a refreshing Passionfruit Gose and it is delicious! Slightly tart and fruity up front with a little salty finish and at 4.5% it's all-day drinkable!
TAPROOM HOURS
Tuesday - Friday: 3pm - 9pm
Saturday: 12noon - 9pm
Sunday: 12noon - 8pm
TAPROOM CALENDAR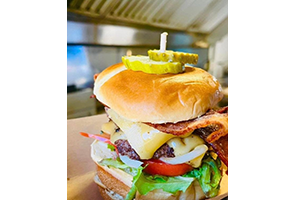 February 26 - Friday
Food: Chrome Gnome. Chef Matt Danylec of Platypus and Gnome brings his food on the road and to our beer garden this Friday! (5-8pm)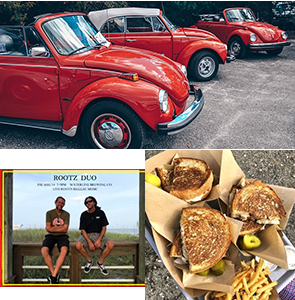 February 27 - Saturday
Event: Vintage VW Meetup and Cruise. We'll be blocking our parking lot this Saturday to welcome an informal gathering of VW enthusiasts for a fun cruise and meetup. (12noon-3pm)
Music: Zion Rootz Duo. It's been a while since we've had any rootz and reggae, but our friends Zion Rootz Duo are back an awesome Saturday afternoon in the beer garden with a cold Waterline ale and some hot reggae music! (3-5pm)
Food: Cheese Smith (1-5pm)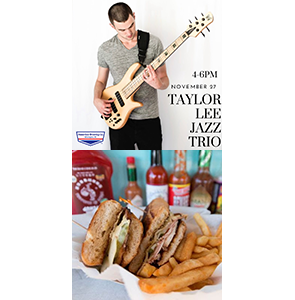 February 28 - Sunday
Music: Taylor Lee Trio. Taylor always pulls together a super talented trio for his monthly Waterline show! If you're a fan of Taylor's virtuosity on bass paired with talented saxophone, keys, or trumpet for some contemporary, fresh instrumental live jazz, then this needs to be your go-to Sunday afternoon! You will not be disappointed! (3-5pm)
Food: Banh Sai (2-6pm)
March 03 - Wednesday
Food: Gruff Goat Comedy (7:30pm)

March 04 - Thursday
Event: Plants and Pots and More Pop-up! It's a small pop-up market featuring MokiNC pottery, Sea Bones Jewelry, Yellow Bell Pottery, and Fairy Hair for Everyone! (4-8pm)
Food: Wheelz Pizza (5-8pm)
March 05 - Friday
Food: Cheese Smith (5-8pm)
March 06 - Saturday
Music: Massive Grass. The Massive Grass crew is back with some of your favorite traditional and contemporary bluegrass! (3-5pm)
Food: A&M's Red Food Truck. OMG loaded tater tots and Triple B sliders! (2-6pm)
March 07 - Sunday
Music: Folkstone Stringband. Make it a bluegrass weekend with Ben and Jones and the awesome Folkstone Stringband! (3-5pm)
Food: Wheelz Pizza. Pizza is always great, but especially on a Sunday afternoon with a cold Waterline beer! (2-6pm)
COVID PHASE 3
Executive Order #195 released yesterday eases some of the Phase 3 restrictions about group sizes and serving hours but keeps in place mask and social distancing requirements. We'll make some adjustments starting in March, but for now and as always, thank you for your understanding and support of our staff by masking up, social distancing, and sanitizing hands!
TAPROOM RULES IN PHASE 3.0
Masks must be worn when not at table
Please wait to be seated, table service only
First come, first served, no reservations
No bar seating, no bar standing, no floating
Please do not move tables or chairs
Limited group sizes at tables
Please keep children at the table with adults
And as always, doggos are welcome!